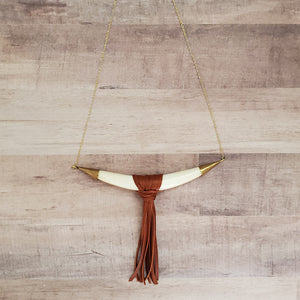 A simple bone crescent pendant wrapped with medium brown leather tassel makes a big statement. Finished with gold chain. 
Length 24" with a 1" extender to adjust as needed 
Bone pendant is 6"
Tassel hangs 3.5"
Typically falls above chest 
*Due to the handmade nature of this product, each piece may vary slightly in design, shape, size, color from what you see pictured. This is what makes each piece truly unique.  

(Please inquire if interested in different color, size)